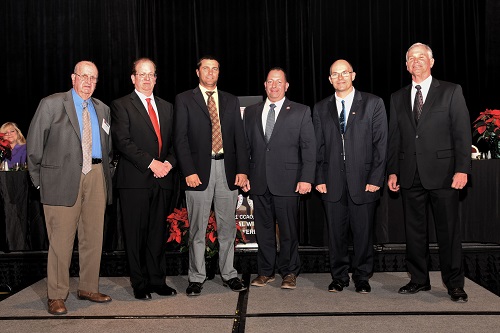 The Superintendents and Mechanics Conference will be on Wednesday, October 20 and Thursday, October 21 at Deer Creek State Park Lodge. Registration is coming soon!
view all
Upcoming Events
←
September 2021
→
S
M
T
W
T
F
S
1
2
3
4
5
6
7
8
9
10
11
12
13
14
15
16
17
18
19
20
21
22
23
24
25
26
27
28
29
30
Latest News
09/10/2021
County bridges in need of repairs are often identified 10 to 12 years before they become "critical," said Mahoning County Engineer Pat Ginnetti. "We want to get it done before that."
---
09/07/2021
WAVERLY- According to the National Association of Counties, Pike County is set to receive $5.4 million through the American Rescue Plan. How those funds are spent comes down eligibility requirements and action taken by the Pike County Commissioners.
During Thursday's commissioners meeting, County Engineer Denny Salisbury asked if a portion of those funds could go towards his office.
---
09/07/2021
The long awaited completion of a Clearcreek Twp. roundabout near a Springboro elementary is expected to completed by the end of this month.
The Warren County Engineer's Office closed the intersection of Lytle-Five Points and Bunnell Hill roads near Five Points Elementary on April 5 to construct the roundabout as well as realigning Red Lion-Five Points Road with Bunnell Hill Road. Once completed, the new roundabout and realigned roads will improve traffic flow, reduce traffic congestion and reduce high impact accidents.
---
09/01/2021
MANSFIELD -- A final cost estimate for clearing and maintaining an 18-mile section of the Black Fork river near Shelby will be reported May 31, 2022, according to Richland County Engineer Adam Gove.
---
09/01/2021
DAYTON, Ohio (WDTN) — Senator Sherrod Brown (D-OH) visited Dayton to discuss how the Bridge Investment Act will help put Ohioans to work repairing, replacing and upgrading old infrastructure in the region.
view all news