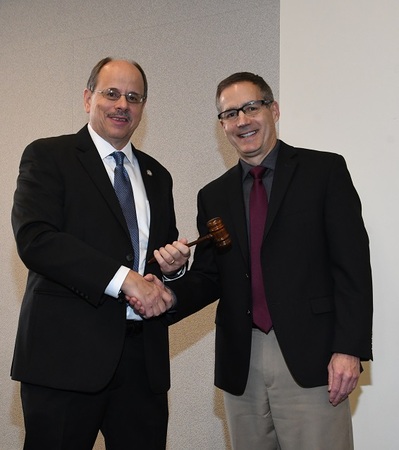 Columbus, Ohio – The County Engineers Association of Ohio (CEAO) presented state recognition awards to Ohio County Engineers and their staff during its annual business meeting
December 4 - 6, 2019.
Brett A. Boothe, P.E., P.S., Gallia County Engineer received the award of 2019 County Engineer of the Year. Ron Myers, P.E., Traffic Operations Engineer with Lucas County Engineer's Office was presented with the CEAO David Brand Safety award. The CEAO County Engineer Employee of the Year Award was given to Michael Meeks, P.E., for helping the association with organizing and participating in numerous conferences over the years.
The incoming 2020 CEAO Officers are President Jeff Stauch, Union County Engineer; 1st Vice President Frederick T. Wachtel, Coshocton County Engineer; 2nd Vice President Keith A. Bennett, Stark County Engineer; Treasurer James A. Wiechart, Mercer County Engineer; and Immediate Past President Jeffrey B. Linkous, Clinton County Engineer.
view all
Latest News
01/13/2020
Columbus Underground - Columbus, Ohio, By Tyler Buchanan
Tim Schumm is already looking forward to spring. County engineers like him also serve as amateur meteorologists. Forget baseball. Spring means it's paving season, and the Henry County official knows the recent influx of gas tax revenue will help to get an extra 11 miles of road paved this spring. His office couldn't have paid for those miles otherwise.
---
01/06/2020
Journal News - Butler County, Hamilton, Ohio —
The latest roundabout project keeps Butler County on pace to include more than 30 by 2022, which the county engineer said underlines officials are "no doubt a believer in them."
---
01/06/2020
The Morning Journal - Loraine and Erie Counties - Although salt supply tonnage is difficult to estimate for the rest of the winter, both the county and its municipalities are sitting on an excess of salt from the previous winter. Salt is ordered throughout the winter as needed, with the county averaging a little over 11,000 tons a year over the past 15 years, according to the Ohio Department of Transportation.
County tonnage: Going into the new season, assistant county engineer Bob Klaiber said the county has 5,000 tons of salt on hand as of mid-December. This amount of leftover tonnage is a bit more than average in comparison to previous years, Klaiber said.
---
12/19/2019
The Daily Jeffersonian - Guernsey County - The Guernsey County Commissioners recently approved a passing zone safety study and a speed zone study. The County Engineer's Office put a request in for funding and received two grants, one for each study. According to County Engineer Paul Sherry, the passing zone study is a broad study of all the paved roads in the county to help determine where the pavement markers should be changed from a double yellow line to a single passing line and on which side of the road it should be.
---
12/19/2019
Butler County Connection - "We currently have the 18th roundabout in Butler County that we were involved with, and it was just constructed at Hamilton Mason Road and Gilmore Road," said Traffic Engineer Matt Loeffler of the Butler County Engineer's Office.
view all news