WELCOME TO CEAO
THE COUNTY ROAD TO SUCCESS AND THE BRIDGE TO THE FUTURE
Ohio County Engineers are responsible for 26,800 bridges and 29,088 miles of urban and rural roadways that are vital to the combined growth of jobs and prosperity in the state of Ohio.
"ALL TRAVEL STARTS AND ENDS ON A LOCAL ROAD"

Since 1940, the County Engineers Association of Ohio has worked to unify its members in providing the highest quality transportation, drainage, surveying and land record keeping services. From the safe and efficient movement of people, goods and services to continuing land development needs, CEAO strives to construct solutions for many challenges to Ohio's local infrastructure.
And, job number one is the traveling safety of our constituents and the visiting, traveling public.
Upcoming Events
March 10-11, 2015
Crowne Plaza North
Columbus, Ohio
---
April 15-16, 2015
Deer Creek State Park Lodge
Mt. Sterling, Ohio
View all >
More News
Jeff Linkous, Clinton County Engineer,
named County Engineer of the Year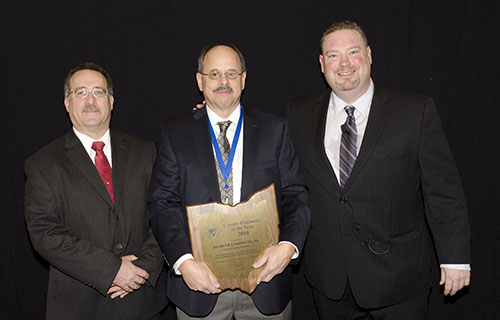 Robert Geuy, Shelby County Engineer and CEAO President and Fredrick Pausch (R), CEAO Executive Director present Jeff Linkous, Clinton County Engineer, with his County Engineer of the Year Award.
This prestigious award is given annually and the Engineer is nominated and elected by peers. Congratulations Jeff!!
Latest News
The "little" bridge on Tunnel Hill Road is causing "big" problems for those who live near it, and travel across it during a rain or winter storm.
View all >
Fredrick B. Pausch
Executive Director
CEAO Staff
Featured Sponsor
Sponsors