WELCOME TO CEAO
THE COUNTY ROAD TO SUCCESS AND THE BRIDGE TO THE FUTURE
Welcome to our newly redesigned website.
Ohio County Engineers are responsible for 26,900 bridges and 29,088 miles of urban and rural roadways that are vital to the combined growth of jobs and prosperity in the state of Ohio.
"ALL TRAVEL STARTS AND ENDS ON A LOCAL ROAD"

Since 1940, the County Engineers Association of Ohio has worked to unify its members in providing the highest quality transportation, drainage, surveying and land record keeping services. From the safe and efficient movement of people, goods and services to continuing land development needs, CEAO strives to construct solutions for many challenges to Ohio's local infrastructure.
And, job number one is the traveling safety of our constituents
and the visiting, traveling public.
CEAO Congratulates Madison County Engineer, Dave Brand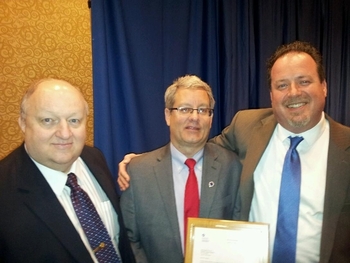 Dave Brand, Madison County Engineer, receives special award from FHWA at the NACE National Conference in Des Moines, IA for the safety edge program he helped guide throughout Ohio and the nation.
Upcoming Events
←
May 2013
→
S
M
T
W
T
F
S
1

Crowne Plaza North
Columbus, Ohio

2
3
4
5
6
7
8
9
10
11
12
13
14
15
16
17
18
19
20
21
22
23
24
25
26
27
28
29
30
31
June 20, 2013
Crowne Plaza North
Columbus, Ohio
---
August 14-15, 2013
Crowne Plaza North
Columbus, Ohio
View all >
Latest News
CEAO Scholarship Application is now Available
The CEAO Board of Directors has established a scholarship program for Civil Engineering and/or Surveying students attending school in the State of Ohio. The intent of the Board is to increase awareness of the County Engineering profession and to encourage students and current county employees to become registered both as a Professional Engineer and as a Professional Surveyor.
2013 CEAO Scholarship Information
View all >
Members in the News
A state transportation panel is crossing projects off the "Christmas list" of road projects vying for some of the $1 billion that will come from the sale of Ohio Turnpike bonds this year. The Transportation Review Advisory Council received $1.8 billion in project requests within 75 miles of the Turnpike. The council scratched 14 projects from the list yesterday, saying the work did not meet funding criteria. TRAC considers only those projects that add capacity, reduce congestion and cost at least $12 million.
View all >
Fredrick B. Pausch
Executive Director
CEAO Staff
Featured Sponsor Sponsors