Upcoming Events
March 7-8, 2017
Crowne Plaza North
Columbus, Ohio
April 9-13, 2017
Cincinnati, Ohio
April 26-27, 2017
Deer Creek State Park Lodge
Mt. Sterling, Ohio
View all >
WELCOME TO CEAO
THE COUNTY ROAD TO SUCCESS AND THE BRIDGE TO THE FUTURE
Ohio County Engineers are responsible for 26,326 bridges and 28,971 miles of urban and rural roadways that are vital to the combined growth of jobs and prosperity in the state of Ohio.
---
Featured Sponsor ---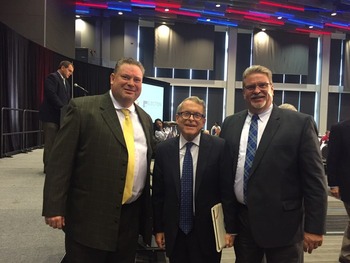 CEAO Executive Director Fred Pausch (L) and CEAO President and Delaware County Engineer Chris Bauserman (R) with Ohio Attorney General Mike DeWine at the 2016 CCAO/CEAO Annual Winter Conference.
---
Save the Date

NACE 2017
April 9-13, 2017 in Cincinnati!
We are thrilled to let you know that NACE is coming to the Buckeye State in 2017! Don't miss this outstanding opportunity to showcase your company to county engineers from across the US!
Exhibitor and Sponsor information is available here. We look forward to seeing you at this exciting event!
---
Latest News
Seneca County departments are making annual preparations for snowfall and residents should too.
MASON — Improvement work that required a full closure on Socialville-Fosters Road at the Interstate 71 bridge has been completed, and the road is now open to through traffic.
The messaging app Snapchat allows motorists to post photos that record the speed of the vehicle. The navigation app Waze rewards drivers with points when they report traffic jams and accidents. Even the game Pokémon Go has drivers searching for virtual creatures on the nation's highways.
View all >
Sponsors