WELCOME TO CEAO
THE COUNTY ROAD TO SUCCESS AND THE BRIDGE TO THE FUTURE
Ohio County Engineers are responsible for 26,900 bridges and 29,088 miles of urban and rural roadways that are vital to the combined growth of jobs and prosperity in the state of Ohio.
"ALL TRAVEL STARTS AND ENDS ON A LOCAL ROAD"

Since 1940, the County Engineers Association of Ohio has worked to unify its members in providing the highest quality transportation, drainage, surveying and land record keeping services. From the safe and efficient movement of people, goods and services to continuing land development needs, CEAO strives to construct solutions for many challenges to Ohio's local infrastructure.
And, job number one is the traveling safety of our constituents and the visiting, traveling public.
Upcoming Events
←
September 2014
→
S
M
T
W
T
F
S
1
2
3
4
5
6
7
8
9
10
11
12
13
14
15
16
17
18
19
20
21
22
23
24
25
26
27
28
29
30
September 22-24, 2014
Hyatt Regency
Columbus, Ohio
---
October 22-23, 2014
Mohican State Park Lodge
Perrysville, Ohio
View all >
More News
CEAO Honors Kathy Keller at Ohio Bridge Conference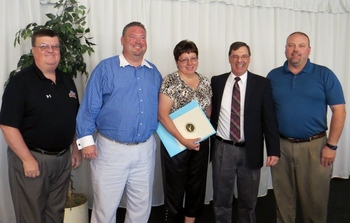 On behalf of Ohio's County Engineers, the CEAO Bridge Committee, and CEAO, many thanks to Kathy Keller for her years of service at ODOT and best wishes on her retirement!
Latest News
WASHINGTON — Racing to adjourn for the summer, the Senate scheduled major votes today on proposals to keep federal highway funds flowing across the nation — billions of dollars to avert layoffs for construction workers and shutdowns of road and bridge projects just before the November elections. A smooth trip through the Senate was anything but guaranteed, and votes were expected to last into the night.
View all >
Members in the News
MARION – A Caledonia road will undergo speed limit changes following citizen complaints and a federal study.
View all >
Fredrick B. Pausch
Executive Director
CEAO Staff
Featured Sponsor Sponsors