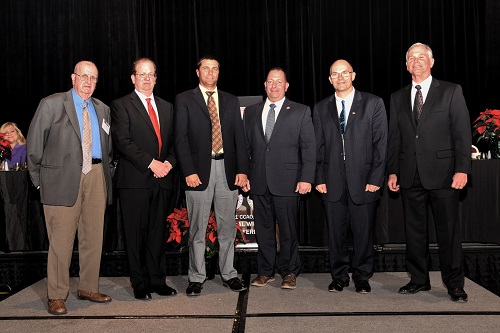 The County Commissioners Association of Ohio and County Engineers Association of Ohio invite you to the 2021 Annual Winter Conference at the Hyatt Regency Columbus, 350 N. High St., Columbus, OH 43215.
Click Here for More Information
view all
Upcoming Events
←
December 2021
→
S
M
T
W
T
F
S
1
2
3
4
5
6
7
8
9
10
11
12
13
14
15
16
17
18
19
20
21
22
23
24
25
26
27
28
29
30
31
Latest News
12/03/2021
Dayton's Third Street bridge reopened Thursday morning after a nearly two-year closure, which means no more detours for the thousands of people who have crossed it each day for years.
The new $17 million bridge was the largest and most expensive bridge project the Montgomery County Engineer's office has ever completed, said county Engineer Paul Gruner.
---
12/02/2021
It was a bridge sidewalk to nowhere, a pitiful pathway over Big Walnut Creek, connecting a rabbit trail on one side to a gap before an actual paved walkway on the other side.
Anyone trying to walk to Nafzger Park to the east or to a bus stop to the west or anywhere else in the vicinity of Refugee Road and the Eastland area on the Southeast Side did so at their own peril.
---
11/29/2021
Despite a few pandemic-related hiccups, most major road projects in Butler County have gone off without a hitch, and even bigger improvements are slated for next year.
The Butler County engineer and officials in Fairfield, Hamilton and Middletown are reporting the big projects in their jurisdictions have been or will be completed on time and at budget. There have been concerns about the global labor and materials shortage but it has only surfaced on a few projects this year.
---
11/29/2021
BEAVER— Two roads in Beaver are set to be reopened by the Ohio Department of Transportation next month following years of repair.
Both Germany Road and Beaver Pike are expected be open to traffic in early and mid-December respectively before construction resumes in spring 2022.
---
11/29/2021
WARREN — Trumbull County commissioners this week signed off on two infrastructure projects planned by the Trumbull County Engineer's Office.
view all news