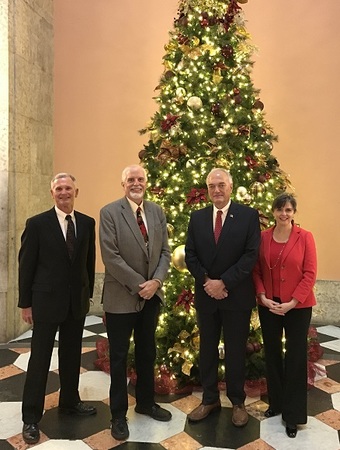 The County Commissioners Association of Ohio (CCAO) and the County Engineers Association of Ohio (CEAO) announce the election of their 2021 presidents, Licking County Commissioner Tim Bubb and Coshocton County Engineer Frederick Wachtel. State Sen. Jay Hottinger performed the swearing-in ceremony, which took place during the virtual CCAO/CEAO Winter Conference on Dec. 9-11.
Joining Wachtel as CEAO officers are 1st Vice President Keith A. Bennett, Stark County engineer; 2nd Vice President Brett A. Boothe, Gallia County engineer; Treasurer James A. Wiechart, Mercer County engineer; and Immediate Past President Jeff Stauch, Union County engineer.
Serving alongside Bubb as CCAO officers are 1st Vice President Debbie Lieberman, Montgomery County commissioner; 2nd Vice President Tom Whiston, Morrow County commissioner, Secretary Armond Budish, Cuyahoga County executive and Treasurer Glenn Miller, Henry County commissioner.
Pictured: Fred Wachtel, Coshocton Co Engineer; Dean Ringle, CEAO Executive Director; Tim Bubb, Licking Co Commissioner and Cheryl Subler, CCAO Executive Director.
view all
Latest News
12/16/2020
Career Opportunity: CEAO Seeks Bridge Engineer
Since 2009, many of you have had the opportunity to work with CEAO's Consulting Bridge Engineer, Mark Stockman, P.E., P.S. Before joining CEAO, Mark was a Deputy Engineer with Henry County, a Bridge Engineer with Paulding County and worked as Street Maintenance Engineer for the City of Columbus. He served as the Paulding County Engineer from 1992-2004. He then went to Allen County as Chief Deputy Engineer and in 2009 went to work for CEAO as the Federal Bridge QA/QC Engineer. Mark has decided to officially retire from his position at CEAO and so now we begin our search for a new engineer to join our team. Mark's experience and expertise in the industry will be greatly missed! If you are interested in the position, please check out the job posting and requirements below:
CEAO Contract Bridge Engineer
CEAO is seeking a qualified candidate for the position of Bridge Engineer. This will be a contract position and is not under PERS. Health insurance benefits will not be provided.
Qualified candidates must:
Be a licensed Professional Engineer in the State of Ohio
Have a minimum of ten years combined of structural engineering and bridge inspection experience as Team Leader or Program Manager.
Have taken either the Federal Highway Administration (FHWA) 2-week comprehensive Bridge Inspection Course, FHWA 1-week comprehensive Bridge Inspection Course for PE's, or have completed the Ohio Department of Transportation (ODOT) Level 1 and Level 2 Bridge Inspection Courses after 2005; and if the comprehensive class was before 2015, a Refresher class within the last 5 years.
Have completed or will need to complete within 30 days of hire the ODOT AssetWise Advance Inventory training.
Read more: Bridge Engineer Position Description
---
10/01/2020
Madison County, Ohio -A roundabout is coming to a Plain City-area intersection that has experienced a high rate of vehicle crashes over the last several years.
Madison County Engineer Bryan Dhume reported on Sept. 29 that the county will receive $1.3 million in federal money to put toward construction of a two-lane roundabout at the intersection of Plain City-Georgesville Road, Converse Huff Road, and Cemetery Pike.
---
07/24/2020
WASHINGTON – On Thursday, July 16, 2020, over 200 state, local, and tribal officials from around the country joined President Donald J. Trump on the White House South Lawn as he reviewed the administration's ongoing efforts to reduce burdensome federal regulations. The President highlighted the regulatory actions taken to expedite infrastructure projects at an event entitled Rollback of Regulations Helping All Americans. Engineers attending from Ohio included Champaign County Engineer Stephen McCall, Delaware County Engineer Chris Bauserman, and CEAO Executive Director Dean Ringle who were invited as part of a delegation with seven other local transportation officials from the National Association of County Engineers (NACE). Vice President Mike Pence, Idaho Governor Bradley Little, and Alaska Governor Michael Dunleavy also addressed the group.
---
07/23/2020
Assistant Engineer Needed in Gallia County
Gallia County - Job Opportunity - The Gallia County Engineer's office is in search of an Assistant Engineer. Gallia County Job Posting Assistant Engineer
---
07/23/2020
Civil Engineer/Project Manager Needed in Muskingum County
Muskingum County - Job Opportunity - The Muskingum County Engineer's office is in search of a Civil Engineer/Project Manager. The position is full time. Muskingum County Civil Engineer Job Description
view all news