WELCOME TO CEAO
THE COUNTY ROAD TO SUCCESS AND THE BRIDGE TO THE FUTURE
Ohio County Engineers are responsible for 26,900 bridges and 29,088 miles of urban and rural roadways that are vital to the combined growth of jobs and prosperity in the state of Ohio.
"ALL TRAVEL STARTS AND ENDS ON A LOCAL ROAD"

Since 1940, the County Engineers Association of Ohio has worked to unify its members in providing the highest quality transportation, drainage, surveying and land record keeping services. From the safe and efficient movement of people, goods and services to continuing land development needs, CEAO strives to construct solutions for many challenges to Ohio's local infrastructure.
And, job number one is the traveling safety of our constituents and the visiting, traveling public.
Upcoming Events
←
April 2014
→
S
M
T
W
T
F
S
1
2
3
4
5
6
7
8
9

Deer Creek State Park Lodge
Mt. Sterling, Ohio

10

Deer Creek State Park Lodge
Mt. Sterling, Ohio

11
12
13
14
15
16
17
18
19
20
21
22
23
24
25
26
27
28
29

Crowne Plaza North
Columbus, Ohio

30

Crowne Plaza North
Columbus, Ohio
April 29-30, 2014
Crowne Plaza North
Columbus, Ohio
---
June 4, 2014
11:00 am Registration/Lunch, 12 Noon Shotgun Start, 5:00pm Dinner
Golf Club of Dublin
Dublin, Ohio
View all >
More News
2014 CEAO Scholarship
The CEAO Board of Directors has established a scholarship program for Civil Engineering and/or Surveying students attending school in the State of Ohio. The intent of the Board is to increase awareness of the County Engineering profession and to encourage students and current county employees to become registered both as a Professional Engineer and as a Professional Surveyor.
2014 CEAO Scholarship Information and Application
Please return the completed application along with
your supporting documentation by May 15, 2014 to:
County Engineers Association of Ohio
6500 Busch Blvd. Suite 100
Columbus, OH 43229-1738
Attention: Scholarship Committee
Latest News
Ohio brings home the hardware from the NACE Annual Conference (National Association of County Engineers) just held in Baton Rouge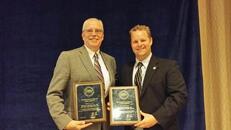 Dean C. Ringle, P.E., P.S. (left) was awarded the 2013 Urban County Engineer of the Year.
Also, Bradley Foster, P.E. (right) was awarded the 2013 Program/Project Manager of the Year.
Both are from Franklin County.
View all >
Members in the News
LIMA — Inflation continues to chip away at the number of miles being paved and sealed in Allen County, even though more dollars are being spent this year than in 2013. Allen County Engineer Tim Piper unveiled the county's $1.52 million 2014 road program to pave 13.6 miles and seal 54.8 miles throughout the county's 12 townships, six villages during a meeting Tuesday at the Engineer's Office. "Roads, bridges and infrastructure as a whole and what that means to Allen County is huge for the quality of life and what that means for economic development and business," Allen County Commissioner Cory Noonan said.
View all >
Fredrick B. Pausch
Executive Director
CEAO Staff
Featured Sponsor Sponsors