Upcoming Events
December 2017
December 10-12, 2017
Hyatt Regency / Battelle Hall
Columbus, Ohio
March 2018
March 13-14, 2018
Crowne Plaza North
Columbus, Ohio
April 2018
April 11-12, 2018
Deer Creek State Park Lodge
Mt. Sterling, Ohio
View all >
WELCOME TO CEAO
THE COUNTY ROAD TO SUCCESS AND THE BRIDGE TO THE FUTURE
Ohio County Engineers are responsible for 26,081 bridges and 28,970 miles of urban and rural roadways that are vital to the combined growth of jobs and prosperity in the state of Ohio.
And, job number one is the traveling safety of our constituents and the visiting, traveling public.
---
Featured Sponsor
---
200th BRIDGE IN THE OHIO BRIDGE PARTNERSHIP PROGRAM OPENS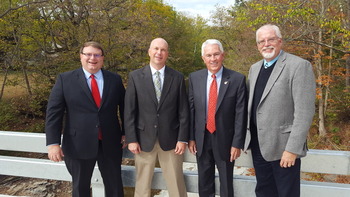 MEDINA (Wednesday, October 4, 2017) - State, federal, and local leaders officially cut the ribbon on the Bagdad Road bridge over the Rocky River. It is the 200th bridge completed under a program between the Ohio Department of Transportation and local government partners.
The Ohio Bridge Partnership Program was created in 2013 to allow local governments to apply for state and federal funding to address bridges in need of major repairs or replacement. The program, created in partnership with the County Engineers Association of Ohio, is investing $130 million into 224 bridges around Ohio.
Read the full press release here
Photo Above: Senator Larry Obhof, Ohio District 22; Andrew Conrad, PE, PS, Medina County Engineer; Director Jerry Wray, PE, PS, Ohio Department of Transportation; Dean C. Ringle, PE, PS, Executive Director of the County Engineers Association of Ohio.
---
Latest News
West Virginia voters took to the polls in an Oct. 7 special election to overwhelmingly approve a measure that will provide $1.6 billion in bonds over the next four years to jumpstart the state's road construction plan. Early results accessed Oct. 8 show the bond receiving 72.82 percent approval from voters. The "Roads to Prosperity" measure is expected to create 48,000 immediate jobs and provide funding for 500 transportation projects.
ARTBA President & CEO Pete Ruane and other senior staff made several trips to the White House this week to discuss the Trump administration's infrastructure package and regulatory reform efforts. Paul Gruner, Montgomery County Engineer in Dayton, Ohio, represented ARTBA at a White House briefing on the administration's infrastructure package.
NEWARK — Flooding last month caused about $2 million in damage in three central Ohio counties, according to initial estimates submitted to the state.
View all >
Sponsors