Featured Articles
03/13/2020
The National Council of Examiners for Engineering and Surveyings (NCEES) 99th annual meeting looked a bit different this year. As Dean C. Ringle, P.E., P.S., concluded his one-year term as President of the organization, every aspect of the annual meeting was done virtually, including officer and CEO reports, elections, and the business session.
"While the structure and content of the meetings have varied over the last century, the focus has remained the same: to decide issues vital to engineering and surveying licensure in order to safeguard the health, safety, and welfare of the public, stated Ringle". NCEES acknowledged Ringle's service as President with an award which was also presented virtually. Congratulations to Mr. Ringle on completing his Presidency with NCEES. Christopher Knotts, P.E., of Louisiana, was installed as the new NCEES president.
---
12/09/2019
Columbus, Ohio – The County Engineers Association of Ohio (CEAO) presented state recognition awards to Ohio County Engineers and their staff during its annual business meeting
December 4 - 6, 2019.
Brett A. Boothe, P.E., P.S., Gallia County Engineer received the award of 2019 County Engineer of the Year. Ron Myers, P.E., Traffic Operations Engineer with Lucas County Engineer's Office was presented with the CEAO David Brand Safety award. The CEAO County Engineer Employee of the Year Award was given to Michael Meeks, P.E., for helping the association with organizing and participating in numerous conferences over the years.
The incoming 2020 CEAO Officers are President Jeff Stauch, Union County Engineer; 1st Vice President Frederick T. Wachtel, Coshocton County Engineer; 2nd Vice President Keith A. Bennett, Stark County Engineer; Treasurer James A. Wiechart, Mercer County Engineer; and Immediate Past President Jeffrey B. Linkous, Clinton County Engineer.
---
11/05/2019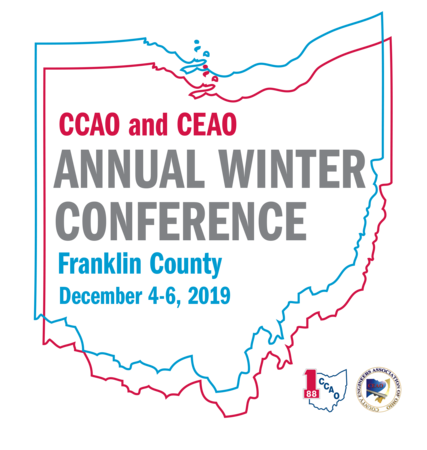 CCAO / CEAO Winter Conference
December 4-6, 2019
Hyatt Regency Columbus, Ohio
Plan to attend our largest conference of the year! Join your colleagues to discuss innovative ways to enhance local government to better serve Ohio's Counties.
If your company offers a product or service to county government, your customers and prospects will be here. Attendees will include County Engineers, County Commissioners, and other county officials and staff with purchasing power.
Exhibit space is officially SOLD OUT as of November 6.
Please note the CCAO/CEAO Winter Conference has moved to a Wednesday through Friday day pattern. The trade show will be held on Wednesday and Thursday and all conference events will be held at the Hyatt.
We look forward to seeing you!
---
03/30/2018
The County Commissioners Association of Ohio (CCAO) recently released a County Advisory Bulletin on the new (2017) $5 Permissive License Fee. This bulletin gives a background history of all the $5 permissive license fees and gives guidance on a county's enactment procedure for implementing the new fee.
View Report and Sample Resolution (click on Studies and Reports)